Ski Deep in the Cascades: White Pass, Washington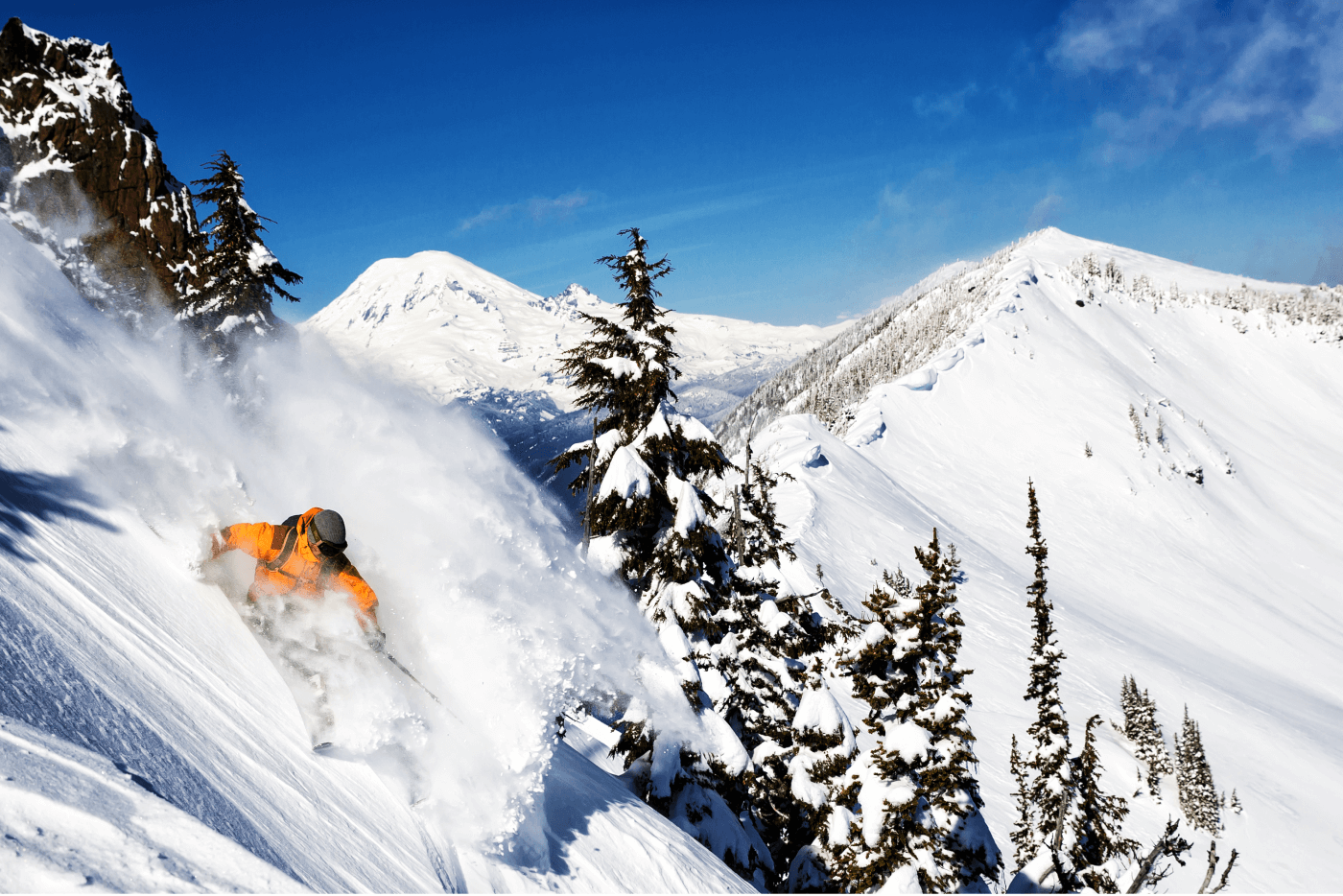 Written by Natalie Akers
If you have a healthy appetite for storm skiing; a habit of lapping the steep, short and sweet trails; and an inexplicable love for old school double chairs without the bar...you've already skied White Pass.
Or you "should," which was the review I continued to hear from my trusted Washingtonian ski buddies. It helps that White Pass is the southernmost alpine resort in Washington's Cascade range. Less than three hours from both Seattle and Portland, White Pass is a reasonable day trip for many. You'd never know.
(Disclaimer: White Pass is home to two high speed quads and plenty of lift options to summit)
White Pass feels remote and wild to most. Yet, it truly offers a weekend (and more) of fun for whomever hops in the car. Tucked into the Wenatchee and Gifford Pinchot National Forests, the mid-sized mountain boasts an average of 350 inches of snow per year, 1,500 skiable acres and a 2,000 vertical feet of drop. I doubted these statistics as I approached the resort from the eastern Yakima Valley. But Yakima - the self-proclaimed "Palm Springs of Washington" - is nearly 3,500 feet below White Pass Ski Area's base.
I watched the snow banks rise as I followed US-12 up in elevation. A familiar site, I imagined, for the founders of White Pass Ski Area. In 1951, Bob Smith, Bob Vaa, and Lars Holmberg recognized the new US-12 as a route to more skiing for Yakima Valley residents. They built the historic Day Lodge which still stands today, and began offering lessons.* (A Look Back at History: White Pass Opens for Skiing, Meyers). The mountain culture continued in their footsteps. White Pass builds as a community for their community.
Wind in the Yakima Valley dies down climbing the pass along the beautiful Tieton River. The well-maintained highway meanders through foggy forests then rain-pummeled cliffs until finally rain yields to snow. Before I can second guess my snow tires, I'm driving through Washington-plated 4WD vehicles lining US-12. This is just one endearing mark of an independent resort. Without any glamorous signage, the state highway is a crucial section of the White Pass parking lot. I've arrived.
I was called here by a powder chaser alert that promised steady snowfall for White Pass and the Washington Cascades. The no-reservation-required status that White Pass offers Indy Pass holders in February sweetened the pot.
I'm here on the kind of day that gives you a sense of purpose. Makes you feel like you're on the deck of a salmon fishing boat in Alaska, yelling to be heard over the weather, earning your glory. But rather than ocean moisture, White Pass will get 6" of fluffy light snow before closing. Yesterday was the same story. This is perfect storm skiing.
The Skiing
I feel almost-guilty for my expedited ticket process. In just three minutes I've redeemed another day on my Indy Pass at White Pass. Great White Express runs parallel to the old Chair 2. The high speed "main quad" lifts skiers and riders over black and double black fall lines to reach the lower of White Pass' two peaks (elevation 6,000'). (Pro tip: warm up your legs then come back to ski Roller Cattrack which gives you access to these expert trails off the ridgeline).
Some quick intel from the locals convinces me to give this "front side" a few laps before the crowds swell. The north facing slopes dip into massive evergreen forests which provide wind coverage and keep this notably dry snow pristine. Today stands in stark contrast to the "cascade concrete" that locals acknowledge who favor the Cascades northern slopes. I hang skiers left and warm up on a wide perfectly-maintained rolling blue groomer before cutting through the spacious woods to the steep and short black: Holiday Cliff. I collect myself at the bottom. "If those are the best ten turns I get all day, it was worth the drive." And with that I slide back onto "Great White."
Right about when the line at the main quad costs me more than a five minute wait, I decide to check out White Pass's infamous "Chair 4." Be warned, a local notes, it can be slow. I confess I am nostalgic for old-school doubles that serve sweet intermediate cruisers. White Pass usually keeps the four intermediate slopes below Chair 4 groomed. This low-aspect, wind protected section of the mountain hosts some fun glade skiing opportunities through the giants. Most notably, it's home to "The Yurt."
The White Pass Yurt is a no-frills lodge. The first time you come across the Yurt, you'll swear you "discovered" it. Lay out in the spring for a cold beer and high altitude tan, or warm up with a hot cocoa and the Yurt's legendary brownie.
Back on the summit, I follow a group of skiers with touring bindings down the "Boardwalk," which lands us on White Pass's "backside." After years of working with the forest service on an expansion into Goat Rocks, the mountain established Paradise Basin in 2010. It almost doubled the acreage of White Pass, which already packed a punch. The basin offers higher elevation skiing at intermediate grades, as well as access to the West Ridge where experts can navigate at their own risk off-piste (please grab a local ski "buddy").
On a blue sky day in the spring, there's nothing more spectacular than skiing Paradise Basin to the backdrop of Mt. Adams. Today, I was storm skiing, and the mountain made some informed safety calls to close the Basin for wind mid-day. I made the reasonable cat track trek back to the Base Area without missing a descent on black diamond, Paradise Cliff.
When you're not skiing...
Special mountains like White Pass breed remarkable skiers. Like Phil and Steve Mahre, who raced and metaled for years on the World Cup circuit. They grew up at White Pass, and you can still find their family teaching intermediate/expert ski and backcountry clinics at their home hill. Take a stroll through the mountain's history immortalized in trophies at the original Day Lodge.
As a downhill skier, I often aggressively pass up on Nordic opportunities. But the old-growth forests feel like a winter wonderland. Bring (or rent!) a set of nordic skis, fat bikes, or snowshoes, and wind through 18 km of groomed trails.
Finally, reserve an affordable spot in the designated RV lot (Pro tip: reservations start Monday at midnight) and send the kids to night ski Saturday or hit the new and popular inner tube facility.).
Why White Pass?
I must admit, White Pass is truly a manifestation of the values I hold so close as a proud owner of the Indy Pass. It is authentically family-first without skimping on the challenging fall lines and exciting terrain to keep experts entertained. It's the only resort I've encountered with a paid "cadet program," where 14-16 year olds can earn money as assistant ski/snowboard instructors. One mother confided in me that she expects her newly minted cadet son to advance in instructor ranks which would grant a pass to the whole family. "I hope I'm still snowboarding by then," she jokes. Maybe then he'll pay back the gas money.
I left feeling immense gratitude that travel (and the brownie) was my only expense for a day of skiing deep in the Cascades.