Red Lodge Mountain: The End of the Road, 7 Months a Year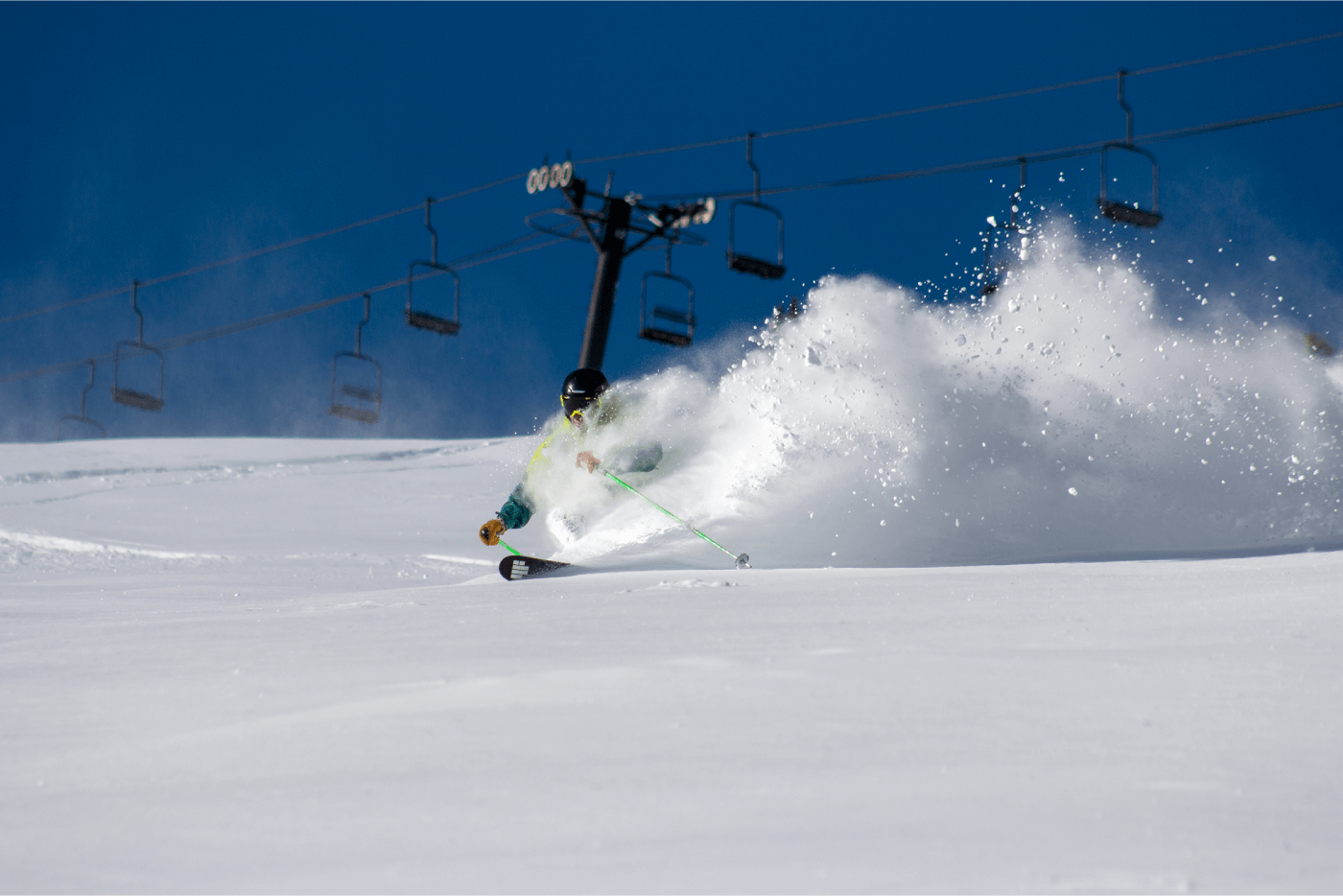 Written by Natalie Akers
Over 37" of snow graced mystical Red Lodge Mountain between October 17 and November 17, 2020. Last year, October saw almost 80". That's in line with the unique storm cycles that locals are hardened to at Montana's eastern-most ski area. Sales and Marketing Manager, Kelsey Borge, described Red Lodge's snowfall patterns as "snow when no one else sees it." Plus, the largest capacity snowmaking system in the state.
Red Lodge Mountain is poised to deliver early season Montana magic to visitors the day after Thanksgiving. And if you're not already dreaming of the drive, here's why you should consider visiting the locals' mountain with a reputation for taking skiers and riders "back in time."
The drive up to Red Lodge is mystical, like entering a national park in the off-season. My front-wheel-drive Ford Transit treks up six inclining, wild miles past downtown Red Lodge (pop. 2,286). The beauty is unsurprising given the mountain's position as a gateway to Yellowstone, but awesome nonetheless. At most resorts, glimpsing the parking lot tends to pop the solitude. But at Red Lodge, the mysticism remains. A small collection of buildings at the base (a lodge, ski patrol/school, ticket booth) look like basecamp for the day's expedition.
I met Borge at the ticket window to demystify some of the stories I've heard from locals. Locals like Mac and Tulsa Dean who own the historic Yodeler Motel in downtown Red Lodge. I'd spent the prior night at the Yodeler. It is the perfect ski hotel, complete with in-room steam saunas, Tulsa's stained glass creations, and a ski/board waxing room. Mac revealed to me that winter in Red Lodge is the season for locals to "take back our town." Summer weather brings tourists driving seasonally-opened Beartooth Pass on their way to Yellowstone. "We're at the end of the road for 7 months out of the year," Mac explains.
Borge is not new to working within the laws of Montana snowfall. Before taking on her job at Red Lodge, she raced, and taught, eventually landing a position as the Director of Youth Programs at Bozeman's Bridger Bowl. She illuminated several unique factors that maintain Red Lodge's balancing act as a financially viable, hidden gem.
Foundationally, the mountain keeps skiing affordable and accessible for a loyal community of locals (note: college full day rate at $47, every day). People also tend to look west to ski. "We pull from Minnesota, Wyoming, and the Dakotas," Borge explains.
And in a year when many resorts are limiting access, Red Lodge's remote community hopes to keep the mountain accessible to pass holders and tourists alike. "We are glad to announce that at this time we do not anticipate using a reservation system for Season Pass and 6-Tix holders," says General Manager, Jeff Schmidt. Others can buy online in advance.
Perhaps most important to the mountain's success, is the timeless, authentic quality visitors attribute to Red Lodge. In Borge's words: "This is the way skiing used to be." "We're not the fanciest," she added, "but we're uncrowded. And the skiing here is phenomenal."
Skiing
Borge graciously radios up to connect me with a buddy who can guide me to some stashes. Local skier, Dawson Loewen, agrees to lead me to some of his favorite moments on the mountain, and I start up the triple chair, which grants skiers access to Grizzly Peak midlift where I plan to meet Loewen. The total ascent is just shy of 2,000' from base elevation at Red Lodge (7433'). It occurs to me my coffee high is accentuated by the elevation.
I met Ray, the Grizzly Peak liftie who raises his eyebrows when I tell him who I'm waiting for. Loewen and his brother are local legends. The last time Ray spotted Loewen, the guy was "ripping out of the trees." There's no shortage of intimidating stories.
I was skiing 88" underfoot and this was my first go on a Montana mountain. But I was hopeful we could start on "Lazy M," the run Borge dubbed Red Lodge's "signature run." I later confirmed Lazy M is the kind of GS delicacy that racer's like Borge (and wannabe's like myself) go crazy for. The groomer is a collection of pitches, presenting plenty of opportunities for that sinking-stomach feeling induced by approaching an unpredictable drop with speed. The intermediate blue skis at a higher level.
Finally, I recognized Loewen; a playful and youthful skier. The mountain, as he describes to me, is the place he feels freest. Only later did I learn his parents (who work in ministry in town) don't ski. Off Grizzly Peak, I follow Loewen into some soft bumps, descending through the thinned trees.
My legs are already feeling worked when we reach the Cole Creek quad. This gives us access to Red Lodge's second peak (9390' in elevation) and an assortment of double black trails including the "Headwaters," area tree skiing. Contrary to the bottom 1,000' vertical of the mountain, there's just one intermediate way out.
On the chair Loewen tells me a story from last season when 15 inches of snow fell midweek and he lapped his favorite chute (our destination) until the mountain closed. He only saw one other person, a volunteer ski patrol. We weave in and out of the tree line somewhere within "Hellroaring Traverse," disrupted briefly by a stick that clips off Loewen's ski. "It's deep in here!" I say giddily. Still deep. Two weekends have passed since Red Lodge's last significant snowfall and Loewen's boot sinks in easily over two feet while he works to snap his binding back on. This is the kind of snow-saving magic that exists at a mom and pop mountain like Red Lodge. Local's favorite lines stay intact even through weeks when the trafficked trails are hurting for snow.
Borge told me at the start of the day, Red Lodge isn't just special for its timeless quality. It's also genuinely uncrowded. "We're famous for never having a line," Loewen confirms, then backtracks a bit. "It can get a bit crowded on a weekend."
"Like 5-minutes-long? Or 5-groups-deep-long?" I prod.
He laughs and admits, "Not even."
This is not Big Sky, serving Bozeman or Missoula transplants who, like myself, are moving west for mountains. It's closer to Billings, Montana's industrial metro. The mountain's employees can still afford to live in Red Lodge. This is a local mountain, that skis like it should have already been snatched up by a soulless development group. It's palpable in the way skiers and riders greet one another on a powder day. On a snow day you can get 1st, 2nd, and even 3rd tracks on the same line. "There's no 'Powder Panic,'" Borge explains. "We're laid back and relaxed. We're out here to have a good time." If this is how skiing used to be, the old school isn't missing anything.
Where to Stay
Beyond its self-described character as a "corporate-free and groovy," place to stay, the Yodeler Motel is impeccably decorated. It's an affordable Bavarian motel three blocks from the heart of downtown Red Lodge, restored and maintained by owner's Mac and Tulsa Dean. Along with their management staff, the two field questions on hiking, climbing, year-round skiing on Beartooth, their unique glass artistry, the community's historic multiculturalism, Tippet Rise art center (check this out!), and so much more. Their hotel is the perfect basecamp for active travelers, and finally on the historic registry after 115 years of existence.
Every room is chock-full of tasteful details that match the room's chosen aesthetic. I stayed in a room themed for Vermont's ski queen Andrea Mead Lawrence, and I plan to request the 10th mtn division room on my next stay, complete with photos shot by "a regular's ancestor." Many rooms have in-room steam saunas, which Mac confirms draw their own loyal customers. Every bed is a cloud.
Warren Miller stayed here for two weeks. Enough said.
Pro Tips
This year, Red Lodge Mountain encourages skiers and riders to get back into the old school parking lot scene to stay safe and compliant with COVID-19 regulation. "I'm gonna need 2 parking spots this year...1 for my truck and 1 for an ice shack or wall tent with a heater," says one local. Your vehicle is your lodge. Bring your grill!